---
Blue Star Farms proudly offers quality horses for sale from young/green horses to seasoned show horses.
If you don't see what you are looking for, please feel free to inquire.
---
Nobel Z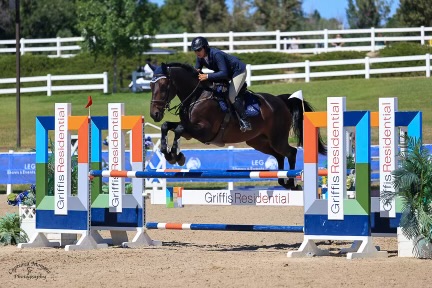 Nobel Z is a 2013 ~17.0 hh imported Zangersheid gelding sired by Nonstop (by Darco). He completed to the 1.30 m in Europe with an amateur and would be a perfect competitive mount for the 1.10 m Children's/AA ring or the 1.20 Jr/AO ring. He has a smooth uphill canter and is brave and honest to the jumps. Nobel fits his name and has a magnificent presence and a kind and personable personality. He has nice flatwork, good ground manners, and no vices. He would make a perfect mount for a Jr or Amateur wanting to go have fun in the jumper ring and could be made up into a lovely 3'6" equitation horse as well. He wants to be loved and will try his heart out for you in return. Clean recent X-rays available. $75,000 USD.
---
Ietwat Anders / SOLD
Ietwat Anders "Anders" is a 2013 17.0 hh imported KWPN gelding. In Europe he was schooling up to 1.20 m. Since his arrival in the US two years ago, Anders has been doing it all with his amateur rider – show jumping, cross country, dressage, trail riding/hacking out. While Anders has been schooling Prix St. George at home, with impressive scores of 75 at 3rd level, his favorite job is jumping. Anders is game, forgiving, clever, careful, and extremely brave to the fences. With his dressage background he is well broke and handy on course. At his first rated show on U.S. soil Anders was shown in the 1.0 m jumps and consistently placed near the top of his classes. Anders is ready to step in the ring as a competitive 1.0 m Low Ch/AA horse with the scope for the 1.10 m High Ch/AA division. Anders is sound with no vices and will pass a PPE. Snatch this super star up now as the price will increase with more US show miles. Priced in the mid-five figures. SOLD
---
Paradiso / SOLD
Paradiso "Pari" (USEF# 5148130) is a 2006 16.0 hh registered Hanoverian gelding by Pablito. Pari has a beautiful expression and is straight forward and brave to the fences with auto changes.  Pari has an extensive show record and has brought many Jr riders up the ranks in both the hunter and eq rings, winning in both rings.  Pari is a seasoned show veteran and gives his riders a consistent ride and is a great confidence builder.  Pari is best suited to the 2'6" ring and is an excellent fist horse for someone looking to gain show ring experience.  Pari clips, loads, bathes, and cross-ties.  He has been ridden out on trails and cross country, and bareback.  Asking $32,000. SOLD
---
Julisimo / SOLD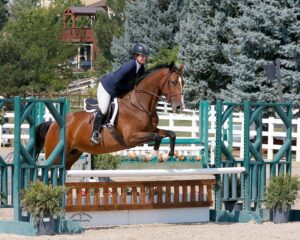 Julisimo "Julie" is a 2014 16.2 hh KWPN mare sired by Opium. Julie is a wonderful, no prep 1.0-1.05 three ring packer recently imported from Holland. She stepped in the ring this fall for her first show on US soil and placed 3rd out of 22 in the USHJA 2'9" hunters. Julie is honest, forgiving, brave, super sweet, not mare ish, perfect ground manners and super safe. She is an overall gem of a horse and would be a perfect fit and confidence builder for a Jr. or amateur looking to move up the divisions.  Asking $60,000, SOLD
---
Unreal / SOLD
Unreal BSF "Kyle" is a 17.0 hh impressive, stunningly handsome 2013 registered Danish Warmblood gelding sired by Untouchable. He has shown to the 1.35m in Europe and has more recently been shown in the equitation here in the US. He is very well schooled on the flat with three comfortable gates and a rhythmical canter. On the ground, he is just as sweet as he is beautiful and really wants to connect with his person. He enjoys time grooming, can trail ride with friends or alone, and wants to be loved on. Kyle is tolerate with mistakes but prefers a confident rider. No vices, great ground manners, kind personality, and just an overall gentleman with a great mind and temperament. X-rays available. Asking $75,000 USD SOLD
---
Elliot Z / SOLD
Elliot Z (USEF #5573505) is a 2013 17.0hh imported Zangersheide gelding. Elliot has been ridden and in the 1.20 m junior jumpers, the Maclay and Big Eq classes, as well as the 3'6" Large Jr Hunters. His flashy movement, slow, big-strided, rhythmical canter, makes him an excellent mount for the equitation and hunter rings which he prefers over the jumper ring. Elliot has a quiet disposition, can be ridden bridless, enjoys trail riding, and has great ground manners, and a kind tempermant.  Asking $35,000, SOLD
---
Beautiful Power VK Z / SOLD
Beautiful Power VK Z "Braveheart" is a 2011 16.2 hh imported Zangersheide gelding by Brainpower. Braveheart has an extensive record in the 1.40 m in Europe and has recently been imported to the US to continue his successful career. Braveheart is brave but careful, quick and handy, has a powerful but comfortable jump, and is simple to ride. He is a confidence builder and always tries his hardest and will put his all into getting to the other side of the jump. Braveheart has the quality and carefulness to be a competitive horse in the 1.40 m for a professional yet is simple and forgiving and would make a highly competitive Jr/Am jumper. He is a horse you want in your barn and is sure to bring a smile every time you jump him. Asking $150,000.00 USD SOLD
---
Geneve / SOLD
Genve is a 2011 16.2 hh imported KWPN mare sired by Cardento.  Geneve has been shown in Europe to the 1.30 m by an amateur and has a huge heart for her job.  She is light in the bridle, well schooled on the flat, has auto changes, and has a lovely rhythm around the course.  She has a quite temperament, loves to be brushed and cared for, and is very kind with the best mind.  Geneve is simple and fun to ride and wants to be competitive.  She would best be suited as a 1.20-1.25 m Jr/Am Jumper.  Asking $70,000 USD  SOLD
---
Wresiling / SOLD
Wreisling is a stunning 2013 16.2 hh registered Hanoverian mare by Waterford. She has a lovely jump, eye catching movement, and a consistent top line. She is simple and kind, and would be a wonderful and rewarding horse for a Jr or Am to bring along. No vices, sweet as can be and really wants to please. Wreisling is a fast learner with a very simple, light mouth and the best mind you can find with no prep needed. Mid-five figures SOLD
---
Nemo / SOLD
Nemo (USEF #5732144) is a 2013 17.3hh imported BWP gelding with an in your pocket personality who strives to please his partner. With a beautiful blaze and four white socks, Nemo has the flashy look to catch your eye and scope for the 1.10m+. In his first few shows, he's placed in the 2'6″ hunter derby at the Split Rock Jump Tour, reserve champion in the 2'9″ USHJA hunters at the Denver Polo Club, shown in the jumpers, equitation and hunters. He's even vaulted! You name it, Nemo can do it. With a love bug personality, Nemo is tall, dark and handsome and the the best addition to any barn. No vices, clips, ties, trailers, stands for the farrier and just an overall gentleman. Asking $45,000 USD SOLD
---
Jermaine / SOLD
Jermaine is a 2015 18.0+ h imported KWPN gelding. He will be attending his first shows this summer.  His flashy appearance, big heart, and scopy jump make him a terrific three-ring prospect.  He has a great mind and temperament, tries very hard, and is nice to work with and train.  He would be a great horse for a Jr. or Amateur looking for a parter to grow with and bring along.  Jermaine has plenty of personality, no vices, and is a pleasant horse to have in the barn.  $45,000  SOLD
---
Galileo / SOLD
Galileo is a beautiful, kind 16.2 hh 10 yr KWPN gelding.  He recently landed in the US.  While in Europe Galileo competed to the 1.35 m.  At his first show in the US, Galileo competed both in the jumper ring and equitation ring, showing in the ASPCA and Dover USEF Medals and helped the Jr. rider win division champion in the 15-17 equation.  He has a calm and consistent disposition, is brave and honest to the jumps with no peek, and has a lovely, soft feel.  He has a quiet temperament and is a delight both to ride and to have in the barn.  SOLD $85,000 USD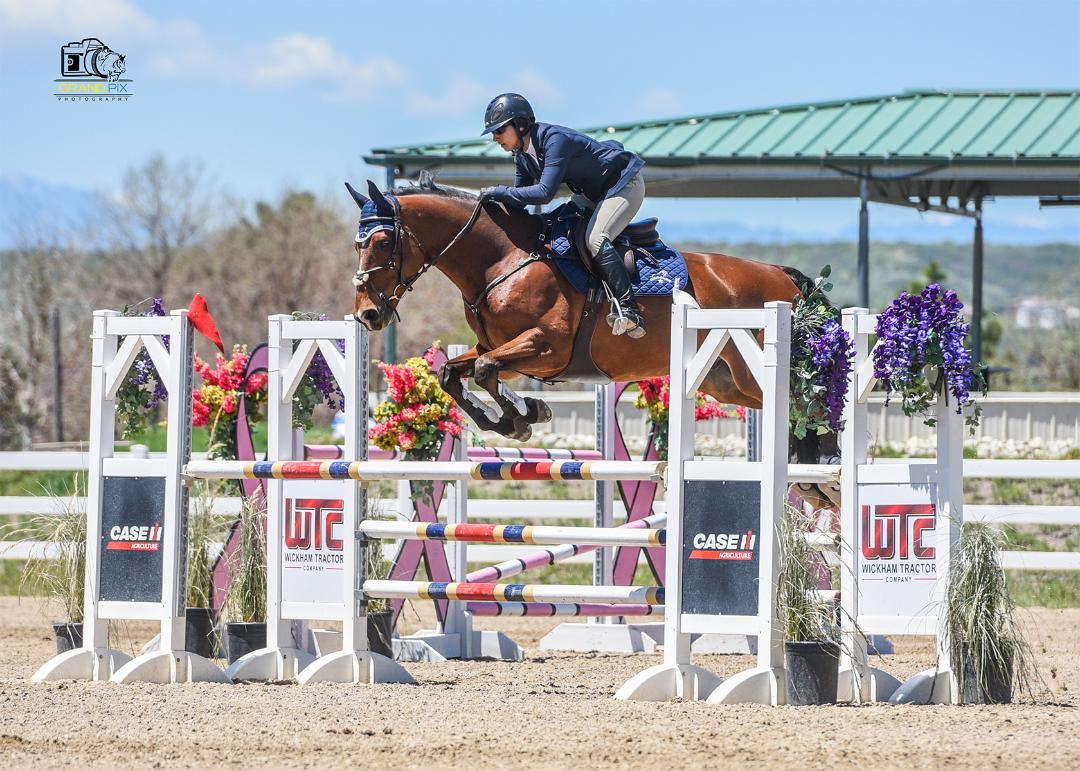 ---
Imperial Night / SOLD
Imperial Night "Adonis" USEF#5508522 is a 2011 17.0 hh imported KWPN gelding (registered name Glenn P) by Tygo (Numero Uno). Adonis is an impressive horse in the ring. He has been shown in the 1.0 m Low Children's jumpers and in the equation by his Jr. rider; however, Adonis would be happy to step up his career into the 3'6″ equations or 1.10+m jumpers. Adonis is fun to ride, easy to see the jumps on, has great ground manners, trail rides, loads, stands for the vet and farrier and is a very pleasant horse in the barn. His owner is leaving to college. Mid five figures.
---
Fidelio / SOLD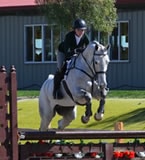 Fidelio is a 2010 17.1+h imported KWPN gelding by Cassini I.  Fidelio is an eye-catching equation horse with a huge presence in the show ring.  He is well schooled on the flat, has a big uphill rhythmical canter, and careful jump.  In Europe he showed up to the 1.20 m jumpers.  Since being imported he has shown in the 3′ eq and .90m jumpers with a Jr. rider.  He would be a lovely horse for the Big Eq with an experienced rider.  Fidelio is kind with great ground manners, and enjoys trail riding and jumping cross country.  He is sound without maintenance.  X-rays are available from 2018.  Priced mid-five figures.
---
Filou 1972 / SOLD
"Filou 1972" USEF # 5501696 is a 2008 ~17.0 h imported Hanoverian gelding by For Edition (For Pleasure) and would be an excellent Medium Jr/AO jumper. Filou competed in Germany in the 1.30 m jumpers with an 80 year old rider before being imported to the US for a career in vaulting. Filou is sadly for sale because his rider is off to college. He enjoys jumping over vaulting, and is now back in training to jump and has been schooling 1.20-1.30 at home with scope for more. Filou would make a terrific Medium Jr/Am Jumper because of his brave and forgiving attitude but is also talented and carful enough for a professional. Filou recently received top placings in the 1.20 m open jumpers as he builds his US resume. Priced at $55,000 USD. SOLD
---
ZOE / SOLD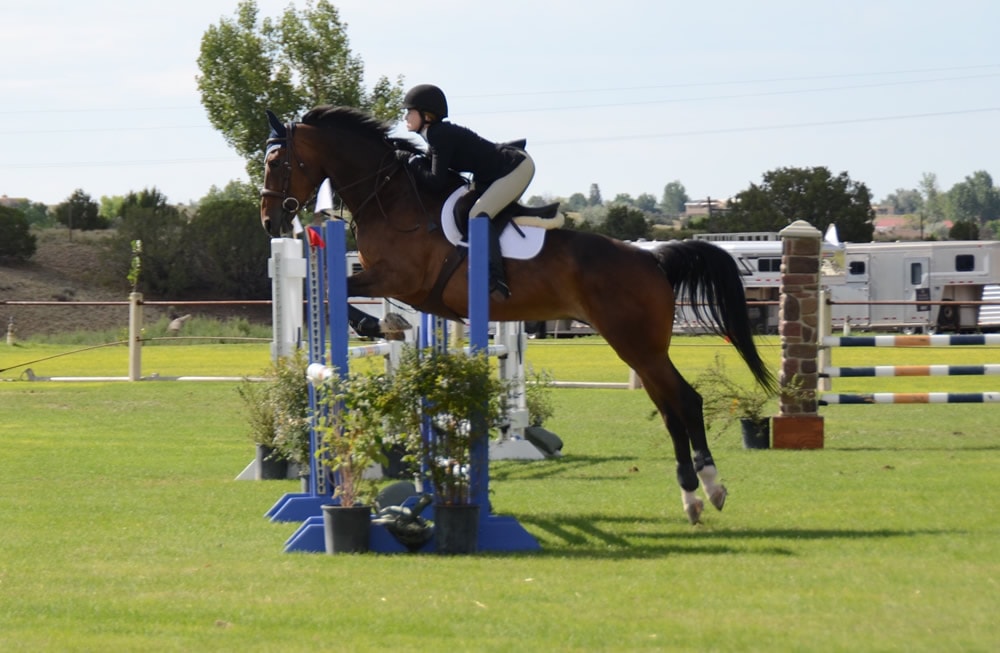 Zoe (USEF# 5443563) is a 16.2 h 2008 Dutch Warmblood mare by Mezcalaro. Zoe has been shown successfully with her Jr. rider in the 1.0 m Low Children's Jumpers with easy scope to move up to the 1.10 m High Children's/AA Jumper division. Zoe has a kind and very willing temperament, is not mareish at all, and is an absolute pleasure to have in the barn. She takes great care of her rider and is totally willing to help her rider out. She clips, loads, stands for the farrier, and is sound with no vices. Zoe enjoys hacking in the Open Space and going cross country. She is being sold because her rider would like to shift her focus to the equitation ring. Her family would like to see Zoe go to a loving home. Asking $35,000 USD. SOLD
---
COOL BLUE / SOLD
Cool Blue "Archie" is a 7 yr/o 16.2 h imported Holsteiner gelding. Archie has been showing successfully with his 13 yr/o rider in the 3'6″ Large Jr. Working Hunters and in the 2nd Year Green Working Hunters. Together Archie and his rider have brought home top ribbons and championships in the Jr. Hunters. He has also shown in the High Children's Jumpers. Archie is brave, honest, has a huge step and scopey jump, and auto lead changes. He is a great confidence builder, takes care of his rider, and does not require any prep. In Europe Archie showed to the 1.20 m jumpers and has scope for the International Hunter Derbies. Archie's family is sadly selling him because their daughter would like pursue her interests in the jumpers. They would like to see him go to a loving home where he will continue his show career and be adored by his next Jr. or amateur rider. Archie is kind, uncomplicated, very sound with no maintenance. Asking $75,000 SOLD
---
BALDO / SOLD
Baldo is a 2006 16.2 h imported KWPN gelding. He would be a terrific horse for a Jr. rider interested in the Big Eq classes. He is honest, brave, and does not require any prep. At his first show in the US he was champion in the 3'6″ Performance Hunter division.  He has finished in the top 12 in both the USHJA National Hunter Derby he has competed in with scores in the 80's and has additionally competed successfully in the Big Eq classes with a 13 yr/o rider. His kind demeanor, flashy exterior, and simple ride make him both the perfect show horses and great partner for any Jr. or Amateur rider. 22 recent x-rays available. Very clean. Asking $65,000 USD SOLD