Below are a collection of articles written by or about Kristin Jacob, Blue Star Farms, and her wonderful and talented clients.
---
---
In Kristin's article, "The Ride of My Life" she shares her month-long adventure working with Martin Black in the Owyhee desert region of Idaho.  During the month long stay, Kristin started her filly, worked on her horsemanship, stockmanship, and roping skills, and studied the traditions of the high desert buckaroo.  Upon her return home, she put these skills to work for success in the Grand Prix ring.  This article appeared in Eclectic Horseman, March/April 2022, issue 124.
---
---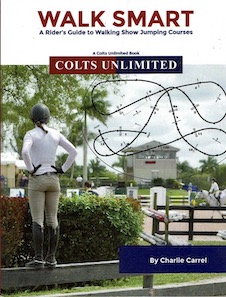 Kristin writes a section on the Warm Up Ring for the book, Walk Smart, by Charlie Carrel. This book is an incredible compilation of interviews and wisdom from some of the top show jumping rider, trainers, and horseman in the industry with focus on how to prepare yourself and your horse to understand and best navigate the questions asked in a modern day show jumping course.  Book can be ordered from https://www.coltsunlimited.com/products/
---
Kristin Jacob writes for Eclectic Horseman Magazine and joins Buck Brannaman, Alicia Landman, Missy Fladland, and Mindy Bower in a round table discussion on how to select your next equine partner and how to avoid a horse and rider mismatch.
---
---
Kristin Jacob writes and article for Eclectic Horseman magazine and discusses the development of her program geared towards educating Jr./young riders on the many facets of horsemanship with the goal of helping them grown into empowered young women.
PDF – Eclectic Horseman, May/June 2020, issue 113
---
---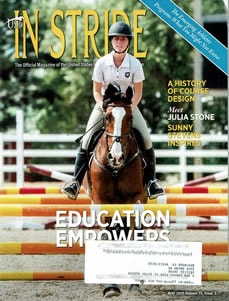 In Stride Magazine features an article about Kristin Jacob's USHJA Horsemanship Quiz Challenge educational summer camp
PDF – In Stride May 2020 Volume 15 Issue 3
---
---
Kristin Jacob writes an article for the Eclectic Horseman magazine and discusses stepping out of one's comfort zone to attend a clinic with Buck Brannaman with her students.
PDF – Eclectic Horseman, September/October 2019, issue 109
---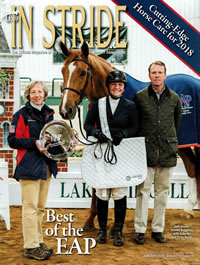 Kristin Jacob writes the Welcome Letter for the USHJA's In Stride magazine. The focus of this issue is on horsemanship and education.
PDF – In Stride January 2018 Vol 13 Issue 1
---
Blue Star Farms rider, Lisa Munro, is featured in the Plaid Horse magazine's list "Top 30 Under 30." Lisa is a talented rider, a tireless horsemanship proponent, a mother of one, and owns a small business, Horse D'oeuvres.
The Plaid Horse Lists 30 Under 30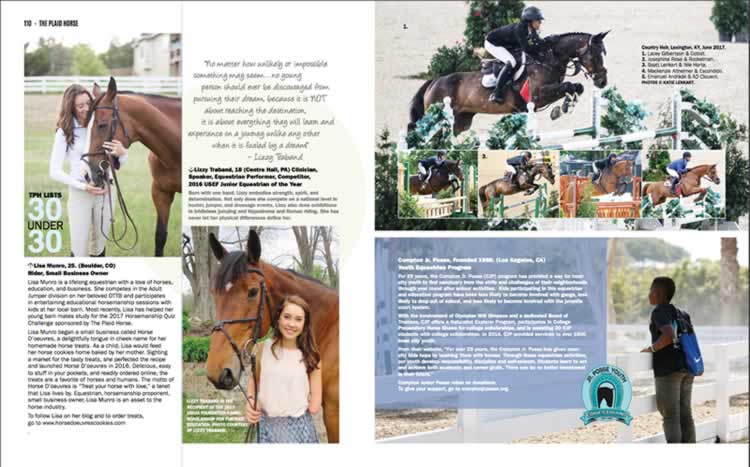 The Plaid Horse August 2017
For more on Lisa and Horse D'oeuvres, visit http://www.horsedoeuvrescookies.com
---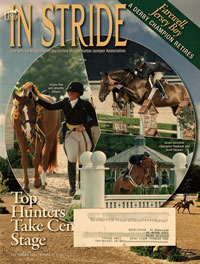 Blue Star Farms and Kristin Jacob are featured in an interview in the USHJA's In Stride magazine. Blue Star Farms won the USHJA's Horsemanship Quiz Challenge Stable Challenge for Zone 8.
PDF – In Stride September 2017 Vol 12 Issue 5
---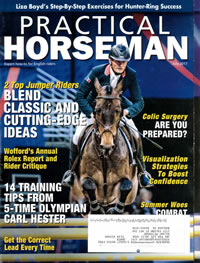 Blue Star Farms rider, Hilary Peterson, is featured in Practical Horseman's Jumping Clinic with George Morris. She is rider #1 and her "posture is textbook!"